Youth
Calvary Community Church is dedicated to making sure that our preteens and teenagers are taught the Word of God in the power of the Holy Spirit on a weekly basis. The challenges facing our preteens and teenagers in modern day society are immense, and it is absolutely necessary for our youth to have an intimate relationship with Jesus Christ at a young age!
Every Sunday morning, the preteens meet for a relatable, age-appropriate Bible study that is accompanied by open discussions about finding God's purpose for their lives, living a Christian lifestyle in modern day society, and developing an intimate relationship with Jesus Christ. The preteens also take part in hands-on activities that help impart Godly truth and wisdom into their lives. Our preteens are typically middle school students, and their ages range between 10-14 years old.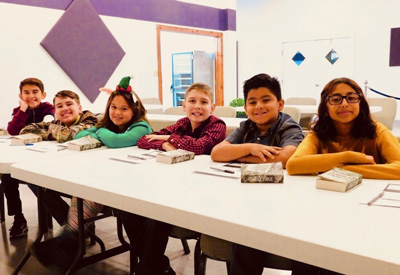 Upon entering high school, the teenagers at Calvary Community Church are encouraged to start attending Bible study with the adults in the sanctuary on Sunday mornings. However, the teenagers are invited to come back to youth and young adults service on Sunday afternoons at 5pm to study the Bible, have discussions, play games, and develop friendships with other Christian young people. Once a year, the youth and young adults attend a weekend retreat where they draw closer to God through Bible study, open discussion, and intimate worship sessions. At these retreats, the youth develop a deeper camaraderie with one another through enjoyable group activities and discussions. All of our teenagers are encouraged to attend youth group on Sundays at 5pm. Join the group text that is led by Pastor Savanna Rojas for more information and to get involved: (210)215-6159.
"How can a young person stay on the path of purity?
By living according to God's Word" (Ps. 119:9 NIV).